Little Missouri Fly Fishing
Well folks, I'm definitely not running the Festival in 2021 for obvious reasons and I dare say, at this point, I doubt that the Festival will return at all. There's just too many things on the Fly Fishing calendar every year that everything was getting diluted and my need to be home more is becoming ever more important. So, the Eighteenth Ever in 2020 may well have been the last of the Little Mo' Fly Fishing Festival in this incarnation!
Eighteen years was a good run and I hope to see everyone on the river otherwise!
The "Eighteenth Ever"
Little Mo' Fly Fishing Festival
February 14-16, 2020

President's Day weekend!
Let's have another great time in 2020!
I hope we can continue to reach new folks every year as well as seeing the return of all of the Usual Suspects mentioned below!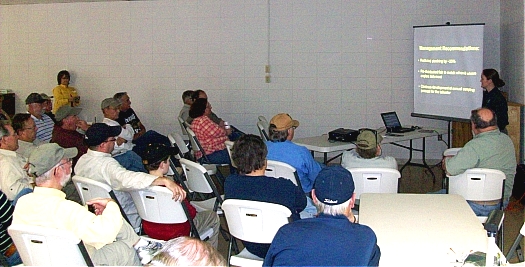 Folks listened to AGFC's Trout Program Director Christy Graham in the past - new Little Mo' Fisheries Biologist Kris Nault will be with us this year! >>>>>
The cards and letters are coming from the list of fly tiers and presenters, otherwise known as "The Usual Suspects":
Confirmed so far...
Dick Waldrep - New Boston, TX
Gordon Shaw - Shreveport, LA
Tom Bullock - Shreveport, LA
Johnny McJunkins - Mineral Springs, AR
Larry Offner - Baton Rouge, LA
Eddie Driskill - Shreveport, LA
Ashley Berry - Little Rock, AR
Don Lawler - Shreveport, LA
Paul Lawler - Shreveport, LA
Bob and Sue Spangler - TX
Scott Irwin - Shreveport, LA
Glen "Catch" Cormier - Alexandria, LA
Don Jackson (Ouachita Outdoor Outfitters) - Hot Springs, AR
Currently developing the schedule for 2018:
Friday afternoon / evening - The usual Fly Tying demos and maybe a bit of home cookin'! (That is to say... Actual food...)
Saturday - open around 8:30
10:00 AM - Tom Bullock - Fishing the White & Norfork Below the Dams
Noon - Kris Nault - AGFC Little Mo' Trout Biologist
Aquatic Critters and the Fantasy Fly Draft ...
Sunday - 10:30 - The "Can You Take It" Casting Clinic (Riverside Park - $5 per person please...)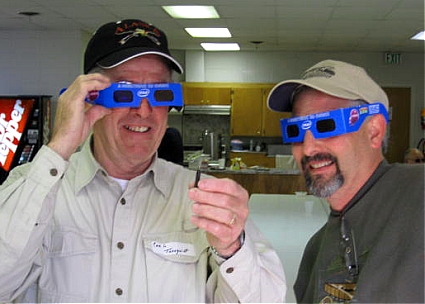 <<<<< One of my favorite pics from all of the Fesitvals... I think, trying new technology to figure out what's in my Little Mo' Wooly blend!!!!
The Sixteenth Ever Little Mo' Fly Fishing Festival remains at the Murfreesboro Municipal Building - that's one block east of the Pike County Court House Square on Main Street. Circle around the Court House and turn right after Hawkins Variety Store.

President's Day Weekend 2018! February 16-18th!
Accommodations:
See all the current lodging listings at Murfreesboro ARK
For those wishing to camp out...
Dynamite Hill and Parker Creek Corps campgrounds near Narrows Dam - electricity and hot showers!
And The Crater of Diamonds State Park on the south side of M'boro - also electricity and hot showers!
American Heritage Inn - 870-285-2131 - 705 North Washington
Diamond John's Riverside Retreat - 870-285-4027 - 81 Roy Rd
Diamond Oaks Inn B&B - 870-285-1535 - 1701 South Washington
Diamonds Old West Cabins - 870-245-8433
Little Shamrock Motel - 870-285-2342 - 919 North Washington
Miner's Rock Shop and Camp - 870-285-2722 - 2235 HWY 301 South
Morning Star Retreat - 870-925-0983
Murfreesboro R.V. Park - 870-285-4058
Queen of Diamonds Inn - 870-285-3105 - 318 North Washington
SWAHA Lodge - 870-285-2272 - 205 Dynamite Hill Rd
The Old Factory Getaway Cabin - 972-529-2470 or 214-957-0454 - at the Factory Site
Mark Wiley's Little Missouri Fly Fishing Cottage - 870-904-0733 - Hwy 19 and Factory Site Rd
See all the current lodging listings at Murfreesboro ARK
We collect a very minimal registration fee of $5 per person or just $10 for the whole family. I want to keep that cost low but there are things I have to cover after all! There's also the $5 "Can You Take It" casting Clinic on Sunday morning - 10:00!
See you all there!!!