Little Missouri Fly Fishing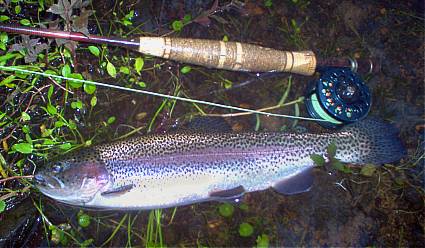 The Latest
Tuesday - March 15, 2022
Monday - March 7, 2022
Tuesday - February 22, 2022
Friday - February 11, 2022
Monday - January 10, 2022

Message Board!!!
870-210-3681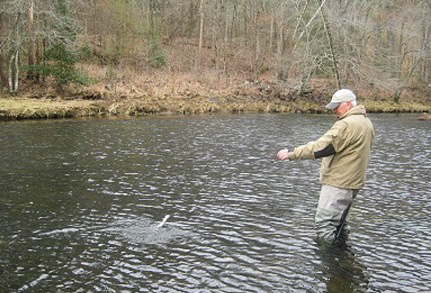 Another day on the river with returning characters, David Cooksey and Jim Allen (Shreveport)! I had to do a little digging in the archives, but I found pictures of David and Jim fishing with me in March of 2008!!! Wow, that's some stick-to-it-ness! Very cool...
David Cooksey works on one of the better fish on the day at The Trough! >>>>
The morning was a lot cooler than we would have liked, mid 40's. but at least it wasn't too windy early on. Every time the sun hit though, it seemed 20 degrees warmer! Typical now that the sun is getting higher in the sky. The cloud cover and cool temps was keeping the March Browns down for much of the morning and we weren't seeing very many at first.
There were fish showing themselves somewhat reluctantly around the Trough, though, and we started to throw an A & W for Jim and a March Brown Slider for David, just to see if it would make any difference. And actually , it did! Seemed that the A&W was doing slightly better over all.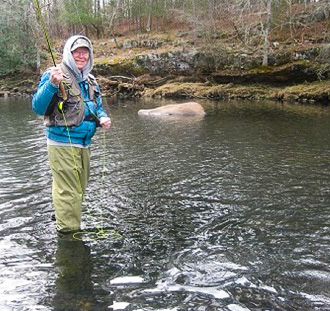 Fish were doing the usual cruise around the Flat and it was just a matter of having one or two come by the fly at the right time. They also preferred a little speed on the retrieve. Many of the takes were a bit light and they wanted to chase the fly down for the first half of the day!
<<<< Jim Allen handles maybe the best fish of the day - a nice 13 inch Eagle Lake female.
Takes seemed pretty steady and once I switched David out to the A&W as well, there was plenty enough action. And every time the sun stayed out just a little bit longer, the Mach Browns popped out with more frequency. It did take them a while to get going, but they also don't have to pay attention to Daylight Savings Time changes! Afternoons are better still, at this point...
Jim broke off on one and we decided it was a sign to try elsewhere for fun! We headed straight to the "J" Ledge and found a goodly number of fish to be had with Long Creeks doing the work for the most part.
The water, at least yesterday, has been unusually clear for this time of year! At Riverside it was nearly summertime "clear" and even below River Ridge it was surprisingly see through - right to the bottom of the J Ledge pool! I didn't stop to look at the clarity at the Wall Hole, but the Couch Hole at River Ridge was decidedly "green" instead of murky "glacial"!
David enjoys one of the prettiest stretches on the river and clear waters - oh, and a trout on too! >>>>
That may have changed after last night's storms. The Upper River came up over a foot and a half today, but with generation all day today the lake is still actually very low at 538.36'! There just isn't much water coming from the woods still...
But we enjoyed bringing strikes up from the depths of the J Ledge, none the less, and we did find a couple of nice fish on the day. I stuck around after the guys left and went back up to The flat to do a little fishing myself for a change! With an A&W once again, I released about as many as I felt good with in 45 minutes! It was pretty furious by 3:30 in the afternoon - at least at the Flat!
There was generation all day today, but there's still nothing slated for all the rest of the week. That actually helps with fish learning to eat March Browns off the top! And even though there weren't a lot of bugs popping out, I did observe quite a few floating adults get chomped under. Sweet!

Back Cast
A little slow getting back to a report, but last Friday the 4th, Farrell Hass (Hot Spring, AR) returned for a second round on the river! A couple of weeks ago we were coming out that really chilly snowy week - and I ended up being pretty sickly for the last ten days following that busy weekend! Got some sort of sinus thing happened, but tested negative for Covid at least...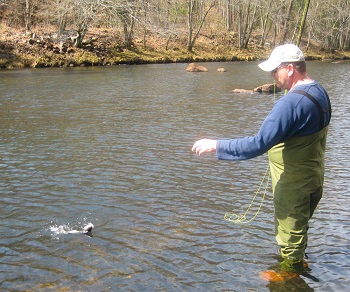 This time, however, it was an awesome Spring day! We even thought it felt similar to one of those crisp November days!
We decided to try the Triangle and Trough area right off. While there wasn't much happening right off a few March Browns were showing periodically. Assuming that was going to be improving as the minutes went by we threw an A & W in right off the bat.
Farrell Hass returns on a much nicer day than two weeks ago where we donned three layers. The bugs and fish were quite happy about it as well! >>>>
It took a few minutes, but fish started to get with the program and there were plenty of takes and fish on for the rest of the time spent there. While, once again, there wasn't anything extraordinary fish wise, we were getting a nice variety of Bows with varying degrees of river acclimation. A few were starting to show some nice colors and even some white-tipped, red belly fins!
Eventually, a few of the March Browns were getting picked off the top on a more regular basis. Bit by bit, they are going to really start keying in on the hatched out bugs on top as much as they will the emergers. Keep in mind, the March Brown hatch won't peak until late April and early May...
We stuck with the fish around the Trough for probably too long, but as you all know, it's hard to leave fish that you know are there! Never the less, we got out, grabbed a bite and beverage, and headed for the Hind's Bluff Access.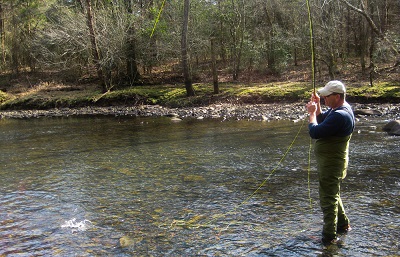 There we found a small group of folks and nobody in the riffles. We did, however, find plenty of fish working the base of Butt Buster Shoals steadily. Once again, there weren't a lot of signs of bug activity, but there was substantial feeding going on anyway!
Spectacular day, spectacular water! Nothing like hand to snout face-offs with feeding fish in in six inches of water! >>>>
We worked our way into position slowly and got Farrell into the right place for the best drifts. We also threw a variety of flies at them and everything worked almost equally well.
I think we started out with the A&W that was still attached and had sufficient interest, also drifted a March Brown Slider through the terraces and they liked that too. But it was clear that the fish were doing more midging than anything. So we went to a Tiger Midge and got the very casual takes characterizing typical midge feeding. So slight, almost imperceptible sometimes! Critical to have a very tight line on the drifts.
As I frequently do - "just out of curiosity" - we gave a Griffith's Gnat a shot! As I have explained to Farrell and plenty of others, the Griffith's really produces a lot of takes, but it's also more difficult to stick fish with! That became pretty evident in no time, but it was worth the ratio change in takes to drifts. It was a hit (or two or three) on nearly every swing! Keeps you busy!
And after a while, again, "just out of curiosity" we tied on my ADL Midge and that gave us plenty of action as well! In fact, the action was bordering on obscene on this occasion, but that's what one can expect on a "right day - right time - right place" kind of day.
I fear Farrell may be getting spoiled already!
Generation this week!
Nothing today.
Tuesday: cranking up at 7:00 AM to 1:00 PM.
Wednesday: 7:00 AM to 2:00 PM.
None for Thursday thru the rest of the weekend!

Back Cast
Busy weekend! Two days on the river and a two days of tennis!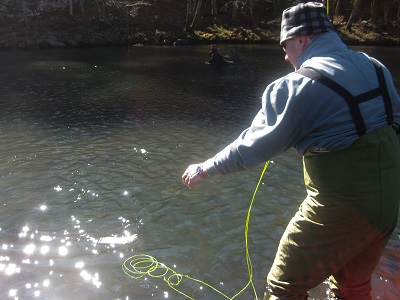 It was a week of Covid make-ups! Last Friday, Farrell Hass (Hot Springs, AR) came over for a day we had tried to schedule some time ago! It was definitely worth the wait - we had generation until 11:00 and by 11:30 we were getting in the water. Falling water is so much better to fish if you can get it!
It didn't take long at all to get into some nice ones on The Flat. There were quite a few March Browns popping in the warming sun. Significantly more than last week.
Farrell Hass documents his first fish of the day down in the Flat at Riverside. >>>>
But fish were definitely more interested in the Long Creek than anything else. They are still learning to feed on the emergers and floating adults. Give them a few more weeks to get good at it!
We wandered around the lower half of the Flat and then up to the Triangle for the most part. There were plenty of fish spread out after the stockings of the previous week - 4,000+ fish loaded in at all five sites! Finding fish is pretty likely at this time of year!
Farrell was having a great time dealing with all the fish around the shallows and that makes it real hard to leave them alone, but we took off downriver anyway.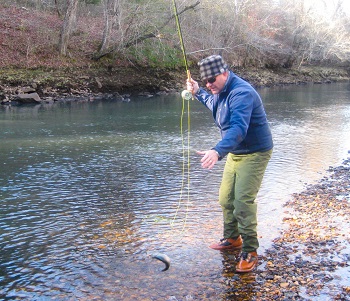 We dropped in at River Ridge to find almost no one around - and certainly none where I wanted to go! We tried the first run below the fallen White Oak. That shoal is under a constant and dramatic state of change! Every time I go by there the main flow has shifted more and more to the east bank and is gouging out the gravel significantly. It really is quite amazing.
Farrell gets a handle on just one of many as the day wrapped up at the J Ledge. >>>>
It went from a long high banked gravel bar with all the flow running down the west side to cuts and grooves from one side to the other. Years ago, Trout Biologist, Christy Graham of the AGFC had backed a truck and shocking boat down that bank in the dark!!! Ya'll should have seen that, but there's no way that could happen now...
Anyway, the first little pocket, while not filled up with gravel completely just yet, is still keeping a fish or two in it. We found the first one on the second or third drift maybe!
We made our way toward the J Ledge, hitting the big boulder run in between, but the fish were not there like they typically are after high water. We did see some action, but we didn't turn up much until we got down to the last pool above the J Ledge, where Farrell made a couple of nice deliveries which produced as they should.
Once into the J Ledge, it was just a matter of getting the fly into the right depth and angle. Still using a Long Creek, nearly every time the drift was right, there was interest. We finished out the afternoon with quite a few in there!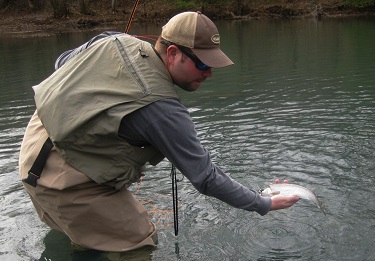 After a full day of tennis on Saturday I met with John Hardin (Shreveport) and Tyler Parker (Bradley, AR) on Sunday. Quite the pair of characters there, which makes for an enjoyable day.
<<<< Tyler Parker shows off one of the better fish of the day.
After hammering home some Drag & Roll casting and stripping technique, we moved right up to the Trough where there was virtually nothing happening at all!!! That's pretty rare, but it does occur on occasion...
So we didn't really dilly dally too long and headed for the Hind's Bluff Access. There we tried A & W's initially in the shallow riffles and that worked rather well as we moved down the shoal and into better position. Once we got into the deeper part of the pool it was back to Long Creeks and very steady action!
In fact there were several doubles for the guys and lots of fish released! A typical day at Hind's Bluff access. Lots of practice with the strip sets finally!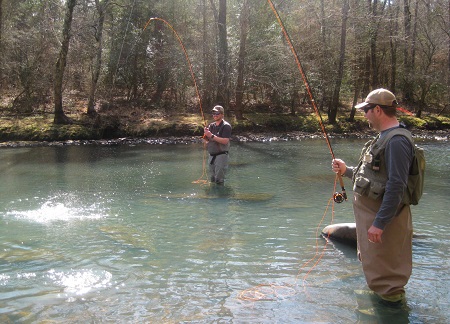 Finally we moved down to the Factory Site - first time there this season - where it just about got obscene! And again, there was no one to be seen initially! But that didn't last too long... Never the less, we started in the bottom of Long Pool where there were dozens of fish showing over the deep boulders.
John and Tyler with one of several doubles on the day! This one at the Hind's Bluff Access! >>>>
With Long Creeks still on it took, I think, one delivery for Tyler to get the first fish on! After that the "one out of four out of four" ratio kind of got a tad skewed the guys way. Made up for the first part of the day at Riverside where there wasn't much going on!
When John lost his Long Creek I decided to give an Olive Little Mo Wooly a try just to see what would happen. It produced equally and as we continued through the afternoon it seemed the fish got to be better quality one by one. As evidenced by this little short that I posted on Facebook: John almost lands a nice one!
A good sign - we have not a clue as to how many fish were landed on the day! And as to typical February, the day started out bright and warming, but finished a bit cooler, cloudy and a chilly breeze! Welcome to winter, or spring, or whatever it is this time of year down here!
Interesting generation the rest of this week!
Wednesday and Thursday cranking up at 3:00 PM to 8:00 PM, and Friday 4:00 PM to 7:00 PM.
Nothing for Saturday or Sunday.
I prefer morning generation, but some is better than none! Enjoy...

Back Cast
Well, it took a while, but I finally got back on the river yesterday (Thursday the 10th)!
Dawson Blackard took a big gamble and came over from Mer Rouge, LA (it was his wife's birthday) to get in on some action. We had definitely picked a good day. It started out cool enough to need a couple of layers, but warmed quickly as we made into the afternoon - shedding layers all the way!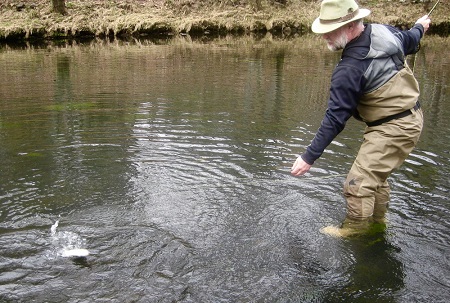 After some casting tweaks we started out up in the Triangle section and had plenty of fish to throw at! They were rising quietly and steady in the shallow water. We were already starting to see plenty of midges sliding about and we probably could have gone that route right off, but we were also seeing a few March Browns starting to pop and I chose to go with the un-weighted Long Creek and see how that worked.
Dawson Blackard deals with one of his first fish of the day at The Triangle! >>>>
That option worked out just fine and we eased down through the Triangle and into the Trough cast by cast while Dawson grooved his stroke and fishing all the way. It was paying off nicely with numerous takes, sticks and fish landed! Best fish there was just shy of 13 inches and we got to see a couple or three Eagle Lake strain fish as well. I always enjoy that immensely!
We also got to see, after watching quite a few March Browns flutter around on the surface uneaten, the first fish figure out that it could eat that just as easily as anything else they had been finding to feed upon. This early in the season, most of the freshies have yet to figure that out. They're not used to seeing many things on top that they've found edible until the March Browns start to hatch in earnest. And we're getting to that time...
Midges are usually what they learn first after being stocked, especially in the mid winter, and most of that is subsurface until those first warm, sunny days like yesterday and today! Once the March Browns get cranked up, though, the feeding frenzy begins! By the end of February and then through the rest of the spring into early summer - the March Browns, nymphs, dries and emergers, will be the food of choice! Except for the periods of Caddis hatches intermingled on days like this, but that's only for two or three hours at the peak of the day.
But for the bulk of this day, Dawson did quite well with the Long Creek both weighted, and light, depending on the water we were hitting. We did however, try an A & W with only moderate success and a Smidge with somewhat less interest! Most of the first part of the day it was the Long Creek that turned the most heads.
We got out for an early afternoon break (good to see David McAdams again!), got a bite and decided to head down to Low Water (where we found Rex White and his brother hip deep in the pool). We got into the cut bank where Rex mentioned there were a bunch of "dinks", but that wasn't an issue for us! There were fishing rising to put a fly in front of!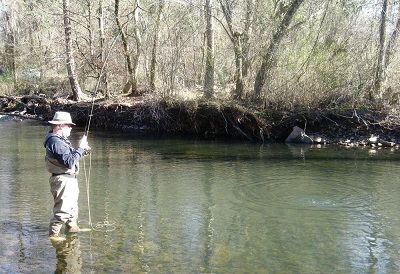 We started out up in the white water and didn't raise anything there, for certain, at least... And we slowly eased down the run to the zone that fish have always seemed to prefer. And even though the fly eating tree that hung over the run is gone, the fish still like to congregate where the tree had imposed itself for decades!
<<<< Getting into a bunch in all the old familiar places! Under the ghost of the fly eatin' tree...
There was a lot of midge activity and the fish were certainly after them, but mostly just under the surface with an occasional splashy rise. There were also some very small Stoneflies, a few Caddis and March Browns to boot. We tried one of my Tiger Midges and it provoked a couple of hits, but not much to get excited about.
We went back to a Long Creek and had lots of follows and a few bumps. They were definitely more interested, but something was making them keep their distance. Now that the sun was at its brightest, though, I felt like refusals were too many. I tacked on about 15 inches of 5X fluorocarbon to the 4X regular we had been throwing and it changed things dramatically! Plenty of takes after that! Most of the time the 4X standard mono would be fine at this time of year, but the sun was bright and the water is particularly low and clear.
By the end of the afternoon it had been a really nice return to the river for me and I trust Dawson feels better about coming over and taking advantage!
Generation patterns have been minimal, just a couple or three hours in the morning and only on Monday, Tuesday and Wednesday of late! The lake is still just at 536.86' - twelve feet below flood pool. So, unless we get some tremendous rains it's going to be minimal high water for a while. Which is actually quite nice - it's been just enough to move some fish around! Enjoy!
By the way, if you want to join in on the Message Board, go to the register option and do so, but please e-mail me that you are a real person and want to join. I will approve you then. I have to go through about a hundred robot registrations a day and reject them manually! I don't want a legitimate fly fisher to be in that group!

Back Cast
So! Here we are! Into the New Year - 2022... What a couple of months it's been. Things kind of got slowed down for me the last several weeks. Sandy had all kinds of health issues that flared up and has taken a while to get back to normal - if you want to consider the day to day, hour to hour challenge that IS Parkinson's as anything normal!
She had developed gastritis through the autumn, which led to dehydration and some level of malnourishment and an eventual ER visit and brief hospital stay just before Thanksgiving! Getting her re-stabilized on the Parkinson's meds and making a dent in the gastritis (which can develop into some serious stuff) was a full time effort for a while!
To the point - she's doing much better now, thank you, and we're sort of returning to a regular schedule. However I did end up backing out of a few trips so as not to be away from the house, and that's why there's been nothing here, or anything from me on the Message Board recently! I just wasn't taking the time to sit at the computer. I did tie a lot of flies though!!! (Thanks, all, for the orders!)
So, I have not been on the river in quite a while, as you can imagine. It seems like way longer than just the middle of November. In the meantime the AGFC has been bringing in fish steadily. I know I've gotten reports of fish being taken out almost as fast though. The AGFC has upped the possession limit statewide to three days (15 fish per license) as opposed to two! Folks are taking advantage of that, I hear... Of course plenty enough people will keep their possession limit in one day!
The AGFC stocking list in their Trout Guidebook shows 58,180 fish scheduled for the year. There is a misprint (I assume) for the March numbers. The math shows that should be 15,000 fish rather than 1,500! Though the April number is down to just 1,980. Hopefully we get to keep a lot of fish in the river into May when the Catch & Release season cranks up. There is the 1,000 fish scheduled for stocking in May, but the June stocking is no longer scheduled. Rats...
It does appear that more fish have been going in during the October - December time frame, though this season nothing happened till November. I do see the AGFC's announcements on stocking here and there on Facebook and that made me feel better at least. Did anyone see any of the Browns that might have been stocked this fall? I've been quite out of touch!
As to water conditions, the lake has only come up two feet in the last month, now at 536.48' - far from flood and high water threats. There's been no generation releases since the middle of October which, while not unheard of, is a little bit unusual! Consequently, many of the fish that have been stocked to date have been pretty well concentrated at the stocking sites and immediate vicinities. The SWEPCO generation schedule still shows zeros across the board and I wouldn't expect that to change any time soon. Feel free to move about the river!
So I hope most have you have stayed healthy, avoiding Covid and anything else. I know a lot of people who have had issues, some slight, some in the hospitals. Don't mess around. Just be smart is all I can tell you. Thank the stars all of my circles involve outside activities, healthy people and significant distancing! Maybe I'll be back in the water soon!

Back Cast
Always On The Water - Jeff